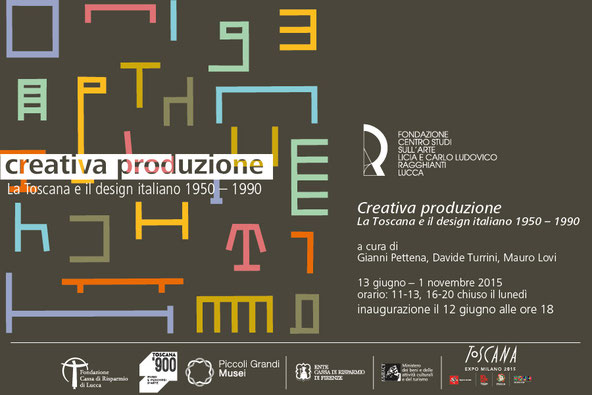 Curators Gianni Pettena, Davide Turrini, Mauro Lovi
June 13 th – November 1st 2015
Orario: 11-13, 16-20. Chiuso il lunedì.
Opening Friday June 12th 2015, 6 pm
The idea of dedicating an exhibition to Tuscan design, comes as part of the initiative Piccoli Grandi Musei 2015. Toscana '900. Musei e Percorsi d'arte, with the support of the Lucca Cassa di Risparmio Foundation.
Curated by Gianni Pettena, Davide Turrini and Mauro Lovi, the exhibition intends to present the production firms which in many areas have taken root in Tuscany and have contributed to the image of contemporary Italian design in the world.
Through the work of important Italian and international designers, the exhibition emphasizes the vital role of the productive realities of the region, pointing out their ability to select and attract talents, especially from the world of art and architecture, and define with them the design and construction of objects and everyday products. The exhibition features and is divided into various sectors of production: furniture, everyday objects in porcelain, ceramic, glass and crystal, marble design and graphics.
Exhibition location: Fondazione Centro Studi Ragghianti  
Complesso Monumentale di San Micheletto - Via San Micheletto  3, Lucca
Press note: Creativa Produzione
Comunicato-Stampa-eng.pdf
Documento Adobe Acrobat
78.7 KB