BEYOND ENVIRONMENT - September 26th - December 20th, 2015. GIANNI PETTENA, ALLAN KAPROW,  GORDON MATTA-CLARK, ROBERT SMITHSON,  UGO LA PIETRA, UFO, 9999.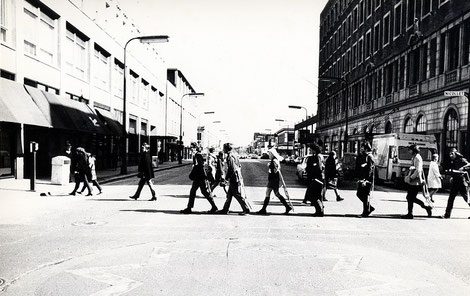 Museum of Contemporary Arts - Lissone - MB     
www.museolissone.it 
OPENING: SATURDAY SEPTEMBER 26th, 2015, 6 PM
The research of Emanuele Piccardo and  Amit Wolf, supported by the Graham Foundation  Woodbury University, centered on the relationship between art and environment, art and architecture in Italy and the US  in the '60s and '70s is now opening  at the Lissone Museum of Contemporary Arts after its first edition  at Los Angeles Contemporary Exhibitions (2014) and the following presentation in Italy  at Casa Masaccio Arte Contemporanea in San Giovanni Valdarno  (march-april 2015). Beyond Environment explores the interchange between architecture, conceptual art, land art, and performing  art that emerged through Italian architect Gianni Pettena's collaboration with American artists Allan Kaprow and Robert Smithson in the 1970s, looking into the different meaning of environment in Europe and the USA in the '60s and '70s, and comparing the Italian and American contexts and the different aspects of the 'radical' research in Europe and  of the land art and happenings in the USA. The exhibition combines works by Pettena, Kaprow, Smithson, Matta-Clark, as well as, from Pettena's Italian and Florentine milieu, those of Superarchitecture and the Italian "Radical" groups UFO, Superstudio, 9999, Ugo La Pietra and Pietro Derossi.