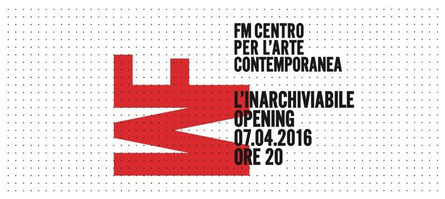 The Unarchivable
April 8th – June 15th 2016
Frigoriferi Milanesi, via Piranesi 10 - Milan 
 http://www.frigoriferimilanesi.it/
The opening of the exhibition The Unarchivable, curated by Marco Scotini in collaboration with Lorenzo Paini, coincides with the 2016 edition of the modern and contemporary art fair Miart. The exhibition presents a survey on the Italian artistic scene in the 1970s. The "unarchivable" refers to the emergence of multiple social forces and multidisciplinary approach that characterized the 1970s in Italy.
The exhibition includes 200 artworks by 60 artists - among which Vincenzo Agnetti, Carla Accardi, Alighiero Boetti, Gianfranco Baruchello , Gianni Colombo, Dadamaino, Piero Gilardi, Paolo Icaro, Jannis Kounellis, Ketty La Rocca, Fabio Mauri, Ugo Mulas, Michelangelo Pistoletto, Vettor Pisani, Franco Vaccari, Gilberto Zorio - coming from the most important Italian collections. The works will be divided in different sections.
Musical scores by Sylvano Bussotti, Giuseppe Chiari e Luigi Nono  will be on exhibit as well as Radical architecture here represented by  Ugo La Pietra, Gianni Pettena, Ettore Sottsass e Superstudio,  and other fields of art such as books, cinema and photography.