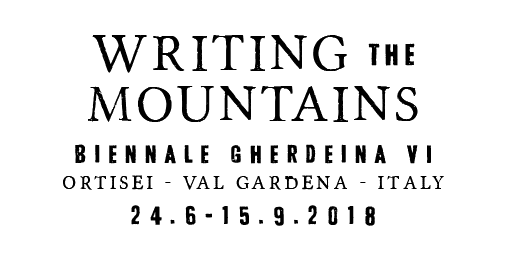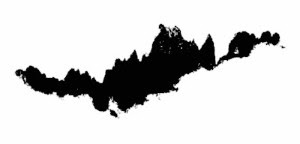 curated by Adam Budak    
Artists: Mariana Castillo Deball, Claudia Comte, Alessandro De Francesco, Alicja Kwade, Sissa Micheli, Štefan Papčo, Giuseppe Penone, Simon Perathoner, Gianni Pettena, Agnieszka Polska, Jiří Příhoda, Gregor Prugger, Mathilde Rosier, Egill Sæbjörnsson, Fabien Vallos, Nico Vascellari, Franz West.   
Press conference: 21.06.2018 at 11, Hotel Adler, Ortisei, Italy
Vernissage: 23.06.2018 at 17.30 Col de Flam, Ortisei, Italy

Performances by: Alessandro De Francesco, Sissa Micheli, Gianni Pettena, Mathilde Rosier, Egill Sæbjörnsson, Nico Vascellari.
Agenda:
· Saturday, 23rd June 2018 at 17.30 opening party with performances and cocktail, Col de Flam and pedestrian precinct, Ortisei.
· Sunday, 24th June at 16.00 at Antonius square with a lecture by Gianni Pettena and Ulrike Kindl, and a panel discussion with the artists.
For more information info@biennalegherdeina.it +39 366 1500 243
"WRITING THE MOUNTAINSis a poetic proposition; here, in what may be considered an act of learning from the mountains, (the language of) poetry is a score for a collection of artistic utterances that celebrate the site and its sublime intensity. Poetic narrative Überwasserby Alessandro De Francesco, commissioned for the Biennale is a manifesto of an "intimate immensity" of the Dolomites: a series of sensual tableaux that along with a lexicon of the nature's elemental language provide a prototype for WRITING THE MOUNTAINS multiple scenarios. 
The exhibition considers the biotope of the mountains as a ritual in flux, archetypal and ever changing, redrafted and transcribed, over and over anew, both mystical and real, simultaneously sublime and mundane, an articulation of a desire, woven of legends, myths and everyday dreams."
Adam Budak
READ MORE...
PRESS RELEASE.pdf
Documento Adobe Acrobat
49.3 KB
---