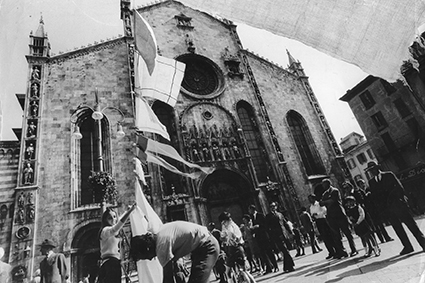 Campo Umano - Public Art 50 years after
Curated by Luca Cerizza and Zasha Colah
Conference:
21 - 22 September 2019
Villa Olmo (via Simone Cantoni 1, Como)
Exhibition: 
Opening: 21 September 2019, 7pm
21 September - 26 October 2019
borgovico33 (via Borgo Vico 33, Como)
http://www.fondazioneratti.org/news/322/campo_umano_-_arte_pubblica_50_anni_dopo
From its title, the project addresses Campo Urbano, the art-event curated by Luciano Caramel that occupied the public spaces of the Italian town of Como for one day on 21 September 1969 with a number of artistic ephemeral interventions; often disorienting for Como's residents and local press. 
Conceived as a two-day conference and an exhibition, Campo Umano - Public Art 50 years after, celebrates the 50th anniversary of that exhibition-event, reconsidering its merits and failures in its wider historical and artistic context.
The presentations on Saturday are devoted to public art events that took place between the late 60s and early 70s (Alessandra Acocella, Luca Cerizza, Alessandra Pioselli, Francesco Tedeschi, and Tommaso Trini), and an in-depth focus on Campo Urbano through the testimony of many of its protagonists (Giuliano Collina, Mario Di Salvo, Ugo La Pietra, Gianni Pettena, Franca Sacchi, and Grazia Varisco). 
---